← Back
G. Farrel Kellum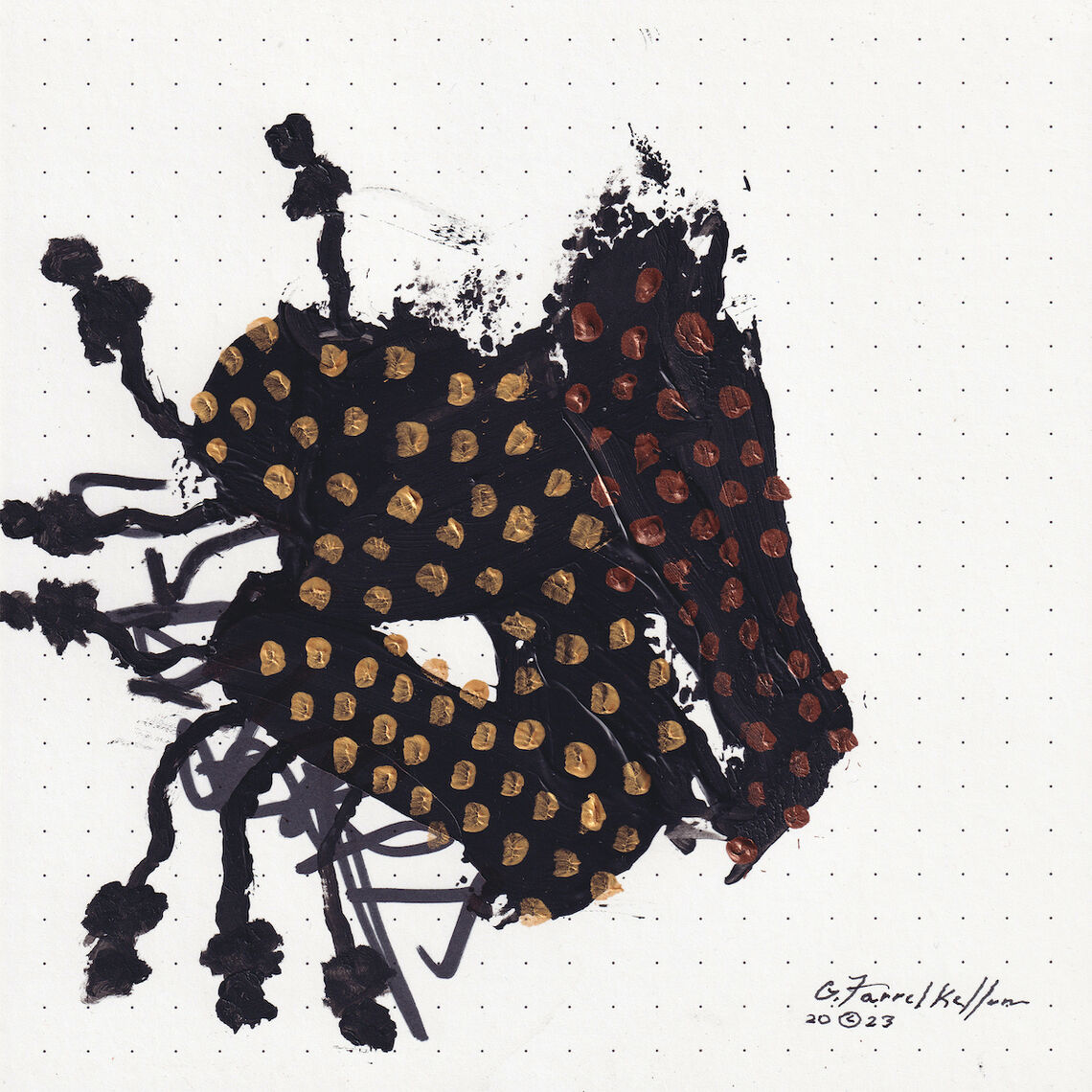 In his current exhibition, Kellum has created a series of artworks employing patterns and geometries on undulating surfaces, gestures which act as metaphorical pathways traversing a line from the past into the future.
In line with the late-curator Okwui Enwezor's curatorial mission for the current Sharjah Biennial 15, 'Thinking Historically in the Present', Kellum's interest in connecting these two periods of experience is focused upon the potential held in the ambiguity each contain. 
The liminal space occupied by the voyage of Africans in bondage to the Americas via the middle passage holds particular significance to the artist as, "the root of a place of 'not-knowing' for so many Black people today - a place where the shattering of cultural and social bonds led not only to a loss of knowledge of where one comes from but also of the sensory experiences that defined one's perception of the world." 
The future being a period of time defined only by possibilities, Kellum hopes to imagine a way back by moving forward through the present, recreating a percussive beat felt deep in his soul that connects him to a knowledge of the past he can never fully apprehend.
Artist:
Title: Initiation
Size: 52"h / 23"w / 10"d
Medium: Acrylic Paint, Canvas and Rope on Wood Support
Year: 2023
Price: Please Contact Gallery
Title: Initiation

Size: 52"h / 23"w / 10"d

Medium: Acrylic Paint, Canvas and Rope on Wood Support

Year: 2023

Price: Please Contact Gallery

Title: Passages 1

Size: 26"h / 26"w / 9"d

Medium: Acrylic Paint, Canvas and Rope on Wood Support

Year: 2022

Price: Please Contact Gallery

Title: Passages #2

Size: 33"h / 17"w / 11"d

Medium: Acrylic Paint and Canvas on Wood Support

Year: 2023

Price: Please Contact Gallery

Title: Passages #3

Size: 31"h / 23"w / 13"d

Medium: Acrylic Paint and Canvas on Wood Support

Year: 2023

Price: Please Contact Gallery

Title: Passages #4

Size: 40"h / 23"w / 13"d

Medium: Acrylic Paint and Canvas on Wood Support

Year: 2023

Price: Please Contact Gallery

Title: Proximity #1

Size: 30"h / 18"w / 6"d

Medium: Acrylic Paint, Canvas and Plastic Ball on Wood Support

Year: 2023

Price: Please Contact Gallery

Title: Proximity #2

Size: 20"h / 13"w / 4"d

Medium: Acrylic Paint and Canvas on Wood Support

Year: 2023

Price: Please Contact Gallery

Title: Proximity #3

Size: 32"h / 17"w / 5"d

Medium: Acrylic Paint, Canvas and Rope on Wood Support

Year: 2023

Price: Please Contact Gallery

Title: Proximity #4

Size: 16"h / 18"w / 5"d

Medium: Acrylic Paint and Canvas on Wood Support

Year: 2022

Price: Please Contact Gallery

Title: Proximity #5

Size: 40"h / 14"w / 7"d

Medium: Acrylic Paint, Canvas and Rope on Wood Support

Year: 2022

Price: Please Contact Gallery

Title: Proximity #6

Size: 17.5"h / 16"w / 4.5"d

Medium: Acrylic Paint and Canvas on Wood Support

Year: 2022

Price: Please Contact Gallery

Title: Proximity #7

Size: 20"h / 17.75"w / 3.5"d

Medium: Acrylic Paint and Canvas on Wood Support

Year: 2022

Price: Please Contact Gallery

Title: Tempestuous Union

Size: 25"h / 28"w / 10"d

Medium: Acrylic Paint and Canvas on Wood Support

Year: 2022

Price: Please Contact Gallery