← Back
Art on Paper NYC - Anne Minich: Selected Works on Paper From the Past 50 Years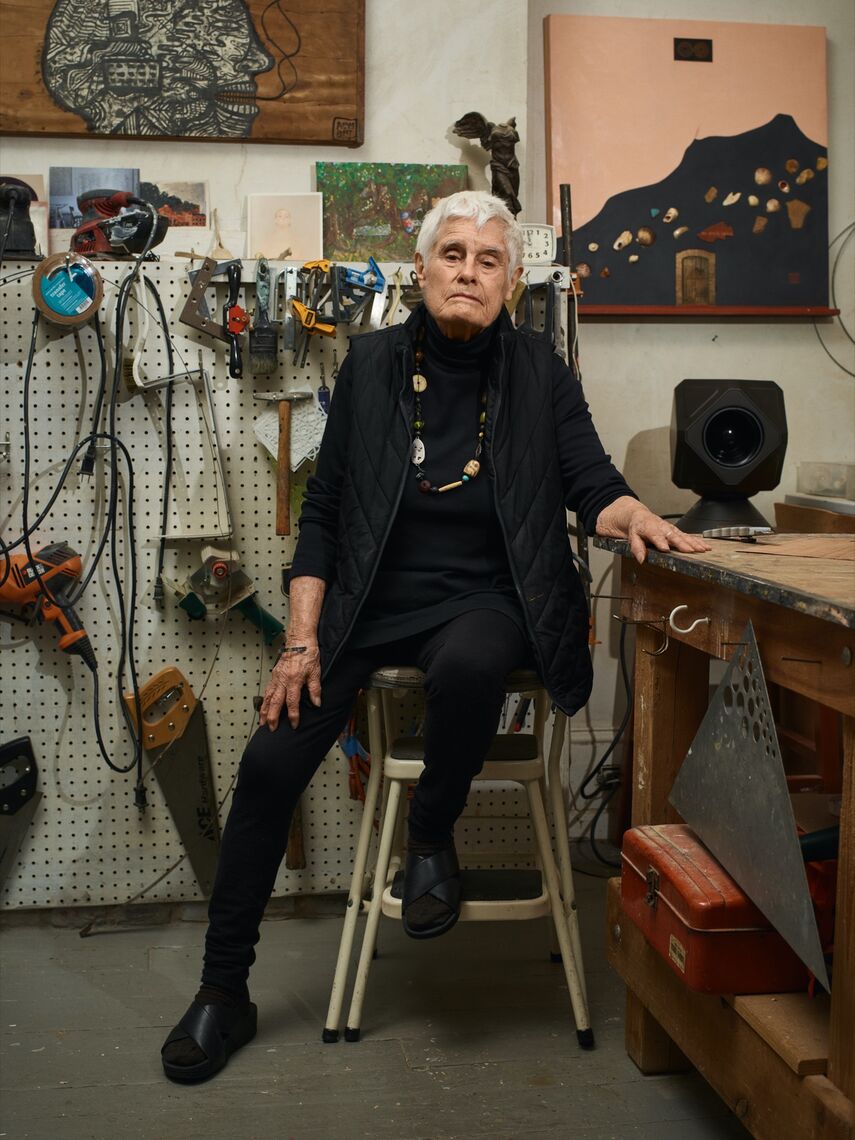 Since the late-1960's Anne Minich's work has used autobiography as a space from which to explore themes of sexual desire, violence, spirituality, place, parenthood, family and many other subjects that define how she encounters the world.
The survey presented at Art On Paper: New York features 17 works that span the early-1970s through 2022, showcasing not only Minich's inimitable spirit, but also her technical expertise, rebellious sense of humor and deep empathy for the human condition.  Beautifully executed character studies share space in the booth with pensive environments of contemplation, alongside surreal reconfigurations of emotional architectures.
At 88, Minich continues to create works through the lens of her own lived experience and invites her audience to reclaim and expand their own definition of selfhood by employing approaches of radical self-interrogation and patient reflection.
Artist:
Title: A E
Size: 6 x 4 in. (each)
Medium: Graphite on Paper
Year: 2010
Price: $2500.—
Title: A E

Size: 6 x 4 in. (each)

Medium: Graphite on Paper

Year: 2010

Price: $2500.—

Title: A Fragile Passion

Size: 22 x 16 in.

Medium: Gold Ink, Graphite and Watercolor on Paper

Year: 1999

Price: $7000.—

Title: Anne Emlen, 1971

Size: 4.25 x 4.75 in.

Medium: Etching (edition of 12)

Year: 2020

Price: $1000.—

Title: Black Water, Black Moon

Size: 22 x 30 in.

Medium: Graphite on Paper

Year: 2000

Price: $8000.—

Title: Door Nobs

Size: 16 x 16 in.

Medium: Etching (edition of 5, 2 APs)

Year: 1973

Price: $5000.—

Title: God Is Love

Size: 12.625 x 9.5 in.

Medium: Lithograph (Unique)

Year: 1971

Price: $2000.—

Title: Kathy 3 (up raised leg)

Size: 7.75 x 6.75 in.

Medium: Conte Crayon on Paper

Year: 1989

Price: $2500.—

Title: Leaving New York City

Size: 21.25 x 31.5

Medium: Collage and Graphite on Paper

Year: 2013

Price: $8000.—

Title: Memory (The Ghost of Rose Doré)

Size: 14 x 10.125 in.

Medium: Collage, Gouache, Graphite and Watercolor on Paper

Year: 1996

Price: $4000.—

Title: North Country Girl

Size: 13.25 x 7.75 in.

Medium: Etching and Lithograph (edition of 5)

Year: 1971

Price: $3000.—

Title: North Country Man (Portrait of George Dworzan)

Size: 10.5 x 12.5 in.

Medium: Colored Pencil and Graphite on Paper

Year: 1979

Price: $3500.—

Title: SAD 1

Size: 24.125 x 18.875 in.

Medium: Conte Crayon and Graphite on Paper

Year: 1980

Price: $6500.—

Title: The Three Wise Ass Men; Miss Fancy Pants, Miss Bad Ass, Miss Gotcha, Sisters of Miss Coffee

Size: 12 x 21 in.

Medium: Colored Pencil and Graphite on Paper in Custom Mat

Year: 2022

Price: $4500.—

Title: Turkey Two

Size: 8 x 8 in.

Medium: Colored Pencil and Graphite on Paper

Year: 2008

Price: $3000.—

Title: Untitled (Trapezoid for Elizabeth Hughes)

Size: 22 x 30 in.

Medium: Graphite on Paper

Year: 2013

Price: $8000.—

Title: Window

Size: 8.125 x 15.625 in.

Medium: Graphite on Paper

Year: 2002

Price: $3500.—

Title: Working the Image

Size: 14 x 10 in.

Medium: Collage, Graphite and Watercolor on Paper

Year: 1996

Price: $2000.—