← Back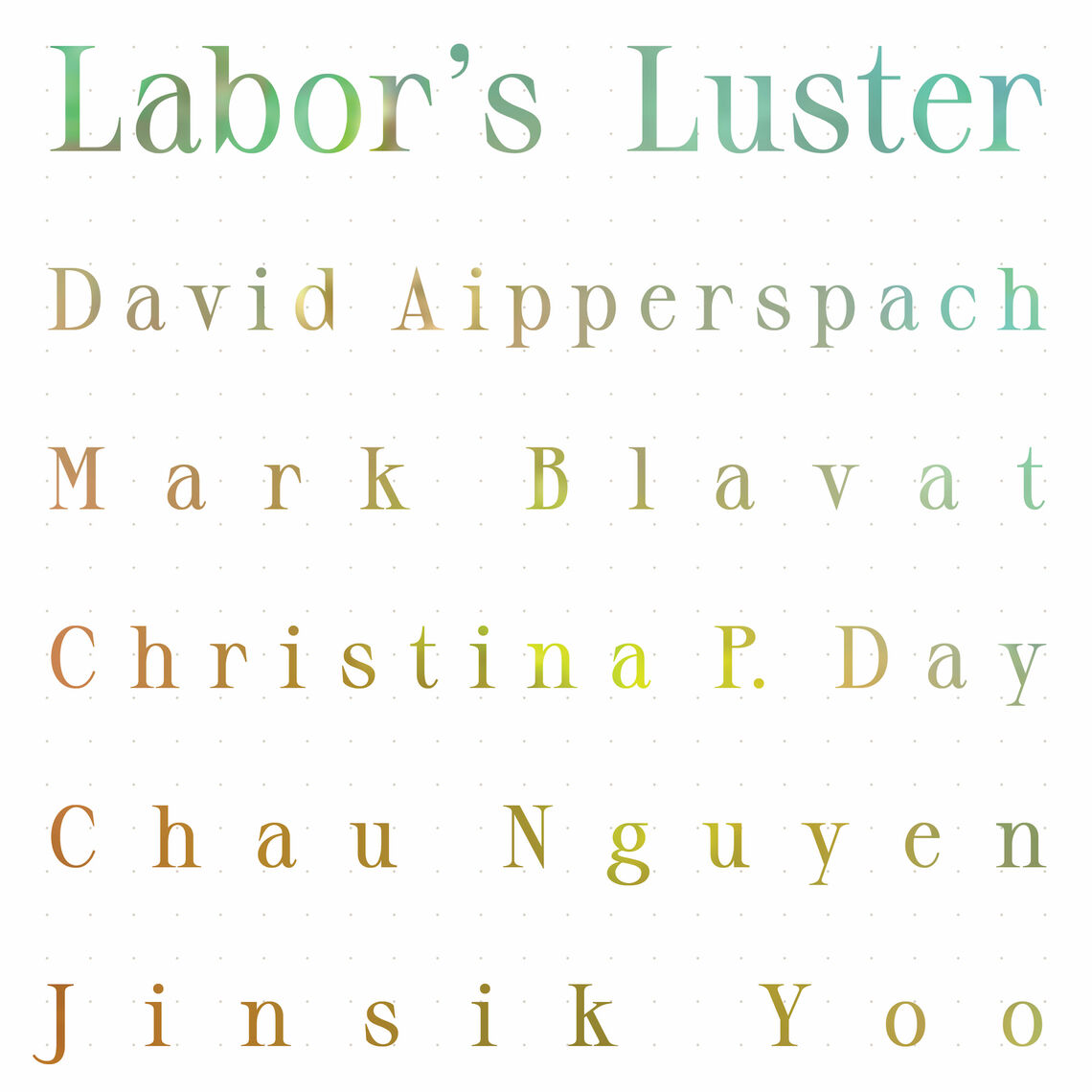 The five artists featured in Labor's Luster embrace radically different artistic practices but are connected by having their works bear the evidence of labor.  That labor could be conducted by the artist themselves, as well as through communities whose experience the works touch upon.
The physicality of their artworks' exteriors focus audiences' attention upon the intentionality with which the artworks were conceived and executed, centering the human experience in conversations as wide ranging as historical design and material culture, capturing the natural environment, artistic practice as a space of self-actualization, queerness and the self, and global trade and colonization.
Similarly, each artist has chosen to exploit the qualities of light and reflectivity through the surfaces they create, hinting at a rich metaphorical interiority to their artworks which they use to surprise, confound and subvert their audience's initial expectations.
Artist: David Aipperspach
Title: Untitled (Landscape 1)
Size: 12"h x 12"w x .75"d
Medium: Oil on Canvas over Panel
Year: 2023
Price: Please Contact Gallery
Title: Untitled (Landscape 1)

Size: 12"h x 12"w x .75"d

Medium: Oil on Canvas over Panel

Year: 2023

Price: Please Contact Gallery

Title: Untitled (Landscape 2)

Size: 12"h x 12"w x .75"d

Medium: Oil on Canvas over Panel

Year: 2023

Price: Please Contact Gallery

Title: Untitled (Landscape 3)

Size: 14"h x 14"w x .75"d

Medium: Oil on Canvas over Panel

Year: 2023

Price: Please Contact Gallery

Title: Untitled (Landscape 4)

Size: 18"h x 18"w x .75"d

Medium: Oil on Canvas over Panel

Year: 2023

Price: Please Contact Gallery

Title: Conditions of Belief

Size: 48"h x 44"w

Medium: Oil on Paper

Year: 2023

Price: Please Contact Gallery

Title: Sephirotic Agitator

Size: 36"h x 24"w

Medium: Oil on Board with Nails

Year: 2023

Price: Please Contact Gallery

Title: The Piping of Heaven

Size: 49"h x 46"w

Medium: Pastel on Paper

Year: 2023

Price: Please Contact Gallery

Title: Pointer

Size: 12.25"h x 5.75"w x 1"d (artwork) / 18"h x 11.5"w x 2.75"d (framed)

Medium: Cut Linoleum and Wood

Year: 2019

Price: Please Contact Gallery

Title: Push

Size: 9"h x 5.5"w x 1"d (artwork) / 15"h x 11.75w x 2.75"d (framed)

Medium: Cut Linoleum and Wood

Year: 2019

Price: Please Contact Gallery

Title: Roser

Size: 20"h x 15.25"w x 1"d (artwork) / 25.75"h x 21.75"w x 2.75"d (framed)

Medium: Cut Linoleum and Wood

Year: 2019

Price: Please Contact Gallery

Title: Monet (Traces of Tomorrow Series)

Size: 30"h x 23"w x 1.75"d

Medium: MDF panel on Wooden Frame and Lacquer Paint

Year: 2022

Price: Please Contact Gallery

Title: Van Gogh (Traces of Tomorrow Series)

Size: 30"h x 25"w x 1.75"d

Medium: MDF panel on Wooden Frame and Lacquer Paint

Year: 2022

Price: Please Contact Gallery

Title: Paranoid

Size: 19"h x 9"w x 9"d

Medium: Glazed Ceramic

Year: 2020

Price: Please Contact Gallery

Title: People Who I Met in Philly, #001

Size: 4.75"h x 4"w x 3.5"d

Medium: Glazed Ceramic

Year: 2023

Price: Please Contact Gallery

Title: People Who I Met in Philly, #002

Size: 5"h x 4"w x 2.25"d

Medium: Glazed Ceramic

Year: 2023

Price: Please Contact Gallery

Title: People Who I Met in Philly, #003

Size: 4"h x 3.25"w x 2"d

Medium: Glazed Ceramic

Year: 2023

Price: Please Contact Gallery

Title: People Who I Met in Philly, #004

Size: 4.5"h x 3.5"w x 3.5"d

Medium: Glazed Ceramic

Year: 2023

Price: Please Contact Gallery

Title: Person Sitting on the Edge

Size: 18"h x 9"w x 11"d

Medium: Glazed Ceramic

Year: 2020

Price: Please Contact Gallery

Title: The New Family, #001

Size: 8.25"h x 10"w x 10"d

Medium: Glazed Ceramic

Year: 2023

Price: Please Contact Gallery

Title: Unbidden Roses

Size: 19"h x 23"w x 11"d

Medium: Glazed Ceramic

Year: 2022

Price: Please Contact Gallery