← Back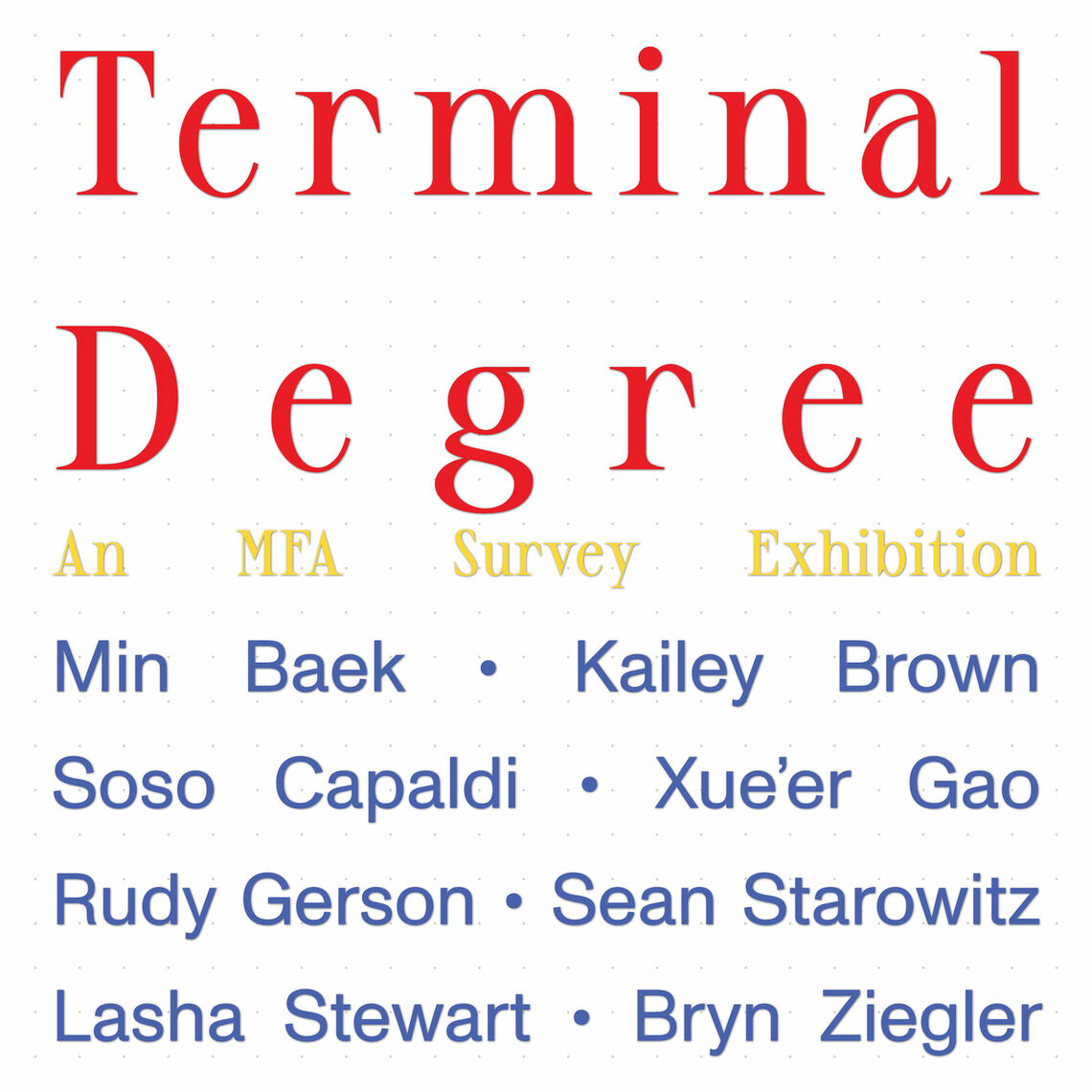 Commonweal presents Terminal Degree: An MFA Survey Exhibition.  Working with graduate department faculty at the Pennsylvania Academy of Fine Arts, the Tyler School of Art and Architecture, The University of the Arts, and The University of Pennsylvania, Commonweal has selected eight 2023 Masters of Fine Arts graduates - two from each institution - to feature in the final exhibition of the gallery year.
Terminal Degree sheds light upon social themes, approaches to materiality and developing conceptual techniques that these emerging talents feel are particularly poignant for making sense of our rapidly changing society.  The continuities between their practices, which have evolved in relative privacy over the past two years, reflect the shared cultural consciousness of our city and world, pointing onward to uncharted spaces each artist is now responsible to further explore, discovering meaning and clearing a path for the rest of us to follow.
Artist: Min Baek
Title: Patina Disk
Size: 54" x 50" x 1.5"
Medium: Oil and Vinyl Paint on Canvas
Year: 2023
Price: Please Contact Gallery
Title: Patina Disk

Size: 54" x 50" x 1.5"

Medium: Oil and Vinyl Paint on Canvas

Year: 2023

Price: Please Contact Gallery

Title: Each to Each: An Observation of Holdings

Size: 24" x 48" x 18"

Medium: Mixed Media

Year: 2023

Price: Please Contact Gallery

Title: White Whale

Size: 30" x 44"

Medium: Ballpoint Pen and Colored Pencil on Paper

Year: 2022

Price: Please Contact Gallery

Title: F.O.

Size: 7" x 6" x 7"

Medium: Terracotta and Flocking

Year: 2023

Price: Please Contact Gallery

Title: Work in Process

Size: 25.25" x 19.25" x 1.75"

Medium: Dyed Paper Pulp and Handmade Paper using Chinese Binding

Year: 2023

Price: Please Contact Gallery

Title: HEBREWS (bookmarked)

Size: 40" x 26"

Medium: Blind Embossing on BFK Rives 175 gms

Year: 2023

Price: Please Contact Gallery

Title: Seed the Future Works!

Size: Dimensions Variable

Medium: Acrylic Paint, Cardboard and Wood

Year: 2023

Price: Please Contact Gallery

Title: If I Could Hold You

Size: 60" x 48" x 1.25"

Medium: Oil Paint on Upholstery Fabric, Plastic Hair Clips and Yarn

Year: 2023

Price: Please Contact Gallery

Title: Don't Look Into the Abyss

Size: 8" x 4.5" x .75"

Medium: Artist Book, edition of 50

Year: 2023

Price: Please Contact Gallery

Title: Don't Look Into the Abyss (Deluxe Edition)

Size: 9.75" x 9.75" x 1.5"

Medium: Artist Book, edition of 5

Year: 2023

Price: Please Contact Gallery