Opening Reception:
from to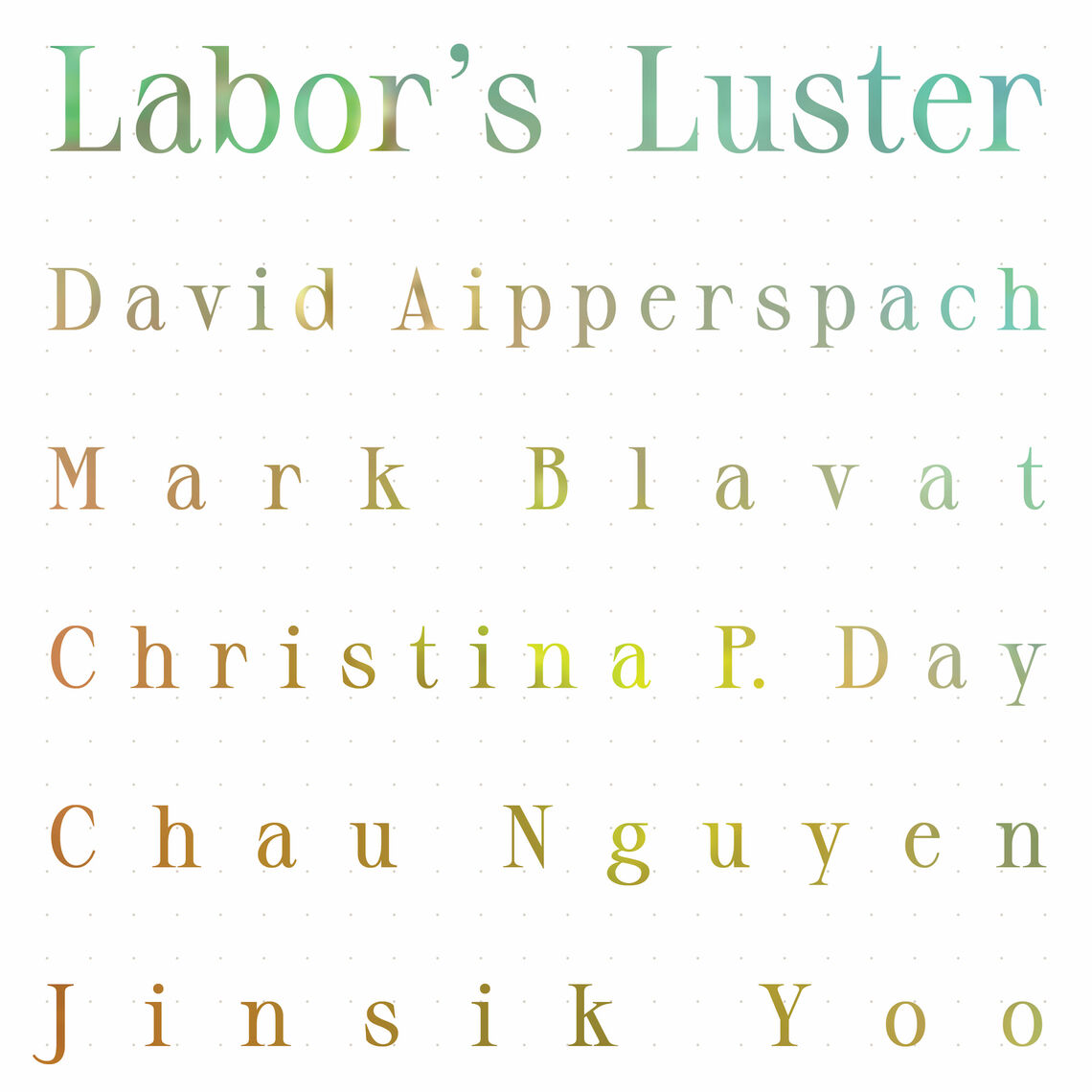 'Labor's Luster' features paintings, sculptures and assemblages by David Aipperspach, Mark Blavat, Christina P. Day, Chau Nguyen, and Jinsik Yoo. Works featured in this exhibition have surfaces that bear direct evidence of their creation, exposing the intentionality with which they were conceived and executed, while engaging properties of light and reflectivity that hint at a rich metaphorical interiority each artist uses to surprise, confound and subvert their audience's initial expectations.
David Aipperspach presents four paintings of framed landscapes, illuminated from within and without — the internal glow of a marsh at dusk meeting the external suggestion of gridded light coming through a paned window. The views are constructions based on his own observations and sketches of various sites along the Delaware River watershed. His interest is in the contradictions of these small, contained worlds — simultaneously spacious and flat, atmospheric and tactile, diurnal and nocturnal, suspended moments with transient light.
Mark Blavat presents three works in paint and pastel as part of Labor's Luster. Blavat taught in the graduate programs at PAFA from 1998 through 2021, though has purposefully chosen not to exhibit work in a commercial space since the early 1990s.   After much convincing, he has agreed to participate in this gallery exhibition, his first in 30 years, where works will be available to barter for services, eschewing traditional commercial means of acquisition.
Christina P. Day is interested in handling found materials that emphasize the dents, scars and physicality of their previous interactions.  Her three collaged constructions created out of Linoleum that are featured in Labor's Luster are guided by traces of the past and the people that lie deep within used objects, engaging with the topic of memory and materiality using the fragments that remain. Her background in Fiber Arts has influenced her interest in pattern and its ability to communicate popular themes visually with an audience, the uncanny aspects of which are amplified through her adept manipulation of unlikely surfaces and materials.
Chau Nguyen is a first-generation Vietnamese immigrant artist, whose works draw upon concepts of translation, memory, cultural symbols, affect theory, materiality, and research on Vietnamese histories to convey frictions at the intersection of cultural identity, colonial fragments, and transnationalism.  The two works Nguyen will present in Labor's Luster come from their "Traces of Tomorrow" series, a transnational, research, and technology-based project which was accomplished with funding from the Loretta C. Duckworth Scholars Studio and the Tyler School of Art and Architecture. It contemplates the decolonization of Vietnamese commercial oil paintings through the mass production of copies of Western masterpieces in Asia, utilizing a transnational network and digital fabrication technologies. Each finished work is a CNC-machined version of a hand painted Western masterpiece copy found at commercial painting galleries in Hanoi, Vietnam. The work is recreated without the pictorial plane, leaving behind the traces of labor (the textures of the thick paint). This conceptual decision aims to take away the impact of the Western gaze upon Vietnamese artists and give back agency to the Vietnamese artists whose labor went into the work. The colors in the work allude to a lacquer painting tradition unique to Vietnam and some of Southeast Asia.
Jinsik Yoo (유진식) works with clay to create abstracted versions of the human form that emphasize how each individual comprises more than just their physical appearance — important pieces of the self like feelings, ideals, beliefs and life experiences that inform who we are. His ceramics expand, alter and intensify features to represent the complexities of the human experience. Yoo's work is also a response to his own personal journey, having suppressed his queer identity out of fear of social stigma for much of his early life and adulthood. By privileging ambiguity, he wants to challenge viewers to engage with the human experience on a deeper level – to ask questions about themselves and their own interiority, an alternative way of thinking about the nuance of social and interpersonal relations.