Opening Reception:
from to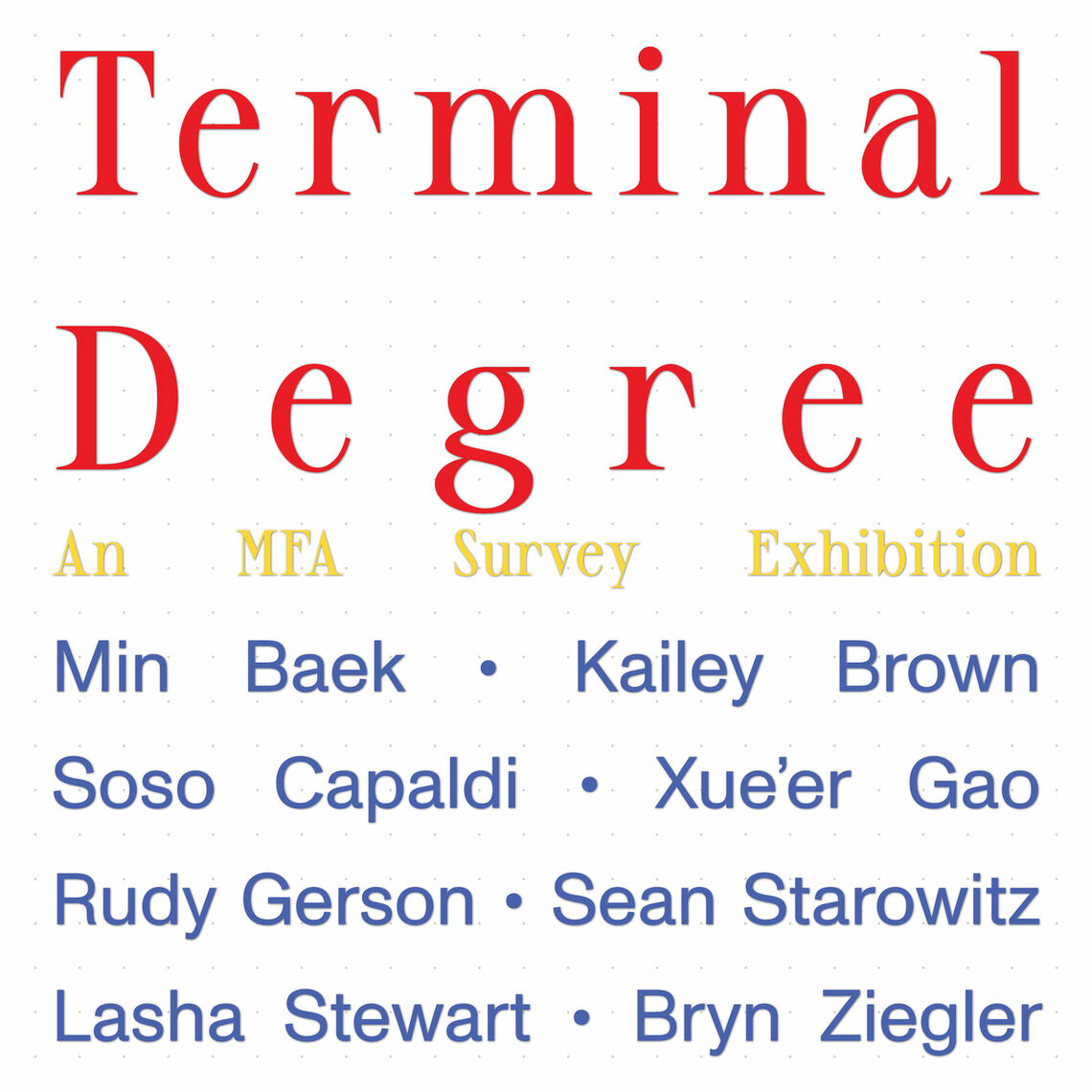 Commonweal presents Terminal Degree: An MFA Survey Exhibition.  Working with graduate department faculty at the Pennsylvania Academy of Fine Arts, the Tyler School of Art and Architecture, The University of the Arts, and The University of Pennsylvania, Commonweal has selected eight 2023 Masters of Fine Arts graduates - two from each institution - to feature in the final exhibition of the gallery year.
Terminal Degree sheds light upon social themes, approaches to materiality and developing conceptual techniques that these emerging talents feel are particularly poignant for making sense of our rapidly changing society.  The continuities between their practices, which have evolved in relative privacy over the past two years, reflect the shared cultural consciousness of our city and world, pointing onward to uncharted spaces each artist is now responsible to further explore, discovering meaning and clearing a path for the rest of us to follow.
Participating Artists:
Min Baek b. 1994 / Suwon, South Korea [she/her/hers]
Masters of Fine Arts in Studio Art from the University of Pennsylvania Stuart Weizman School of Design
Baek is a Philadelphia-based visual artist whose practice spans painting and sculpture. Her work delves into themes of transition, temporality, womanhood, and the fragility of life. Baek earned a BFA from the School of the Art Institute of Chicago, and an MFA from the University of Pennsylvania. She held a solo exhibition at Spectrum Gallery (Seoul, KR) and a two-person show at the Helen J Gallery (Los Angeles, CA). She has participated in group exhibitions at venues such as Artspace Boan 1942 (Seoul, KR), Rainbow Cube (Seoul, KR), Youngeun Museum (Gwangju, KR), Gummies Gallery (Brooklyn, NY), New Works (Chicago, IL), and Viridian Artists (New York, NY). In recognition of her achievements, Baek received the Oakley Medal of Achievement in 2020 (Philadelphia, PA). 
Kailey Brown, b. 1993 / Huntsville, Alabama [she/her/hers]
Masters of Fine Arts from the Pennsylvania Academy of the Fine Arts
Brown is a printmaker and papermaker based in Philadelphia. She received her MFA in Fine Art from the Pennsylvania Academy of the Fine Arts and her BFA in Printmaking and Art History from the University of Alabama in Huntsville. She completed her Master Woodblock Training as the International Artist in Residence at the Heilongjiang Art Museum and Heilongjiang Printmaking Institute in Harbin, China, becoming the first Western woman and first American to learn the region's 1000 year woodblock methods. She also completed her certification in Electro Etching in Gran Canaria, Spain in 2022. She has attended numerous residencies, and has taught printmaking at various community print-shops and universities. Her work is in numerous permanent collections and has been exhibited both within the US and internationally.
Soso Capaldi, b. 1996 / Abington, Pennsylvania [they/them/theirs]
Masters of Fine Arts in Ceramics from the Tyler School of Art and Architecture
Capaldi is a biracial, queer artist exploring ideas of safety, substance abuse, mental health and an energy of bliss that happens in childhood which you can never get back and work with any medium they can get their hands on.  They speak gently of reparenting themself and trying to find out how to know themself with the help of therapy, boundaries, and exploring the creatures in their work. The creatures are accidental teachers who dispense wisdom while they am building them and when they least expect it. When Capaldi didn't have a safe place to live they started to think about where the creatures in their work live and exist.  With the help of the creatures in their work, they are hoping to land softly and create safe spaces for themselves and others on paper and in the physical world.
Xue'er Gao, b. 1995 / Anhui, China [she/her/hers]
Master of Fine Arts in Book Arts and Printmaking from the University of the Arts
Gao's work arises from a space of exploration and experimentation. She creates artist books, prints, installations, and 3-dimensional forms using papermaking techniques that transform the patterns of Chinese culture into vibrant, colorful visual poetry. She draws inspiration from the magical world around her, infusing it with a sense of wonder and whimsy.  She believes each material has its own characteristics that allow them communicate in a particular way and Gao loves exploring those possibilities.
Rudy Gerson, b. 1993 / Las Vegas, Nevada [any pronouns]
Masters of Fine Arts in Studio Art from the University of Pennsylvania Stuart Weitzman School of Design
Gerson is an artist who uses print, moving image, and performance to propose expanded possibilities of a hybridized Jewish approach to questions of race, secularity, sexuality and memory culture. Rooted in a working method identified as "critical nostalgia", Gerson attends to the non-narrative, sensuous aspects of historical inquiry and its limits by employing the scrap as a recurring motif. In his recent work, the scrap emerges across forms in order to speculate with fragments and dislodge information from its intended use. Alongside a studio practice, Gerson has collaborated with artists and performers for stage and exhibition, having had work at Abrons Arts Center (2019, Jonathan González; 2022, Slauson Malone) LMCC's River-to-River festival (2022, Jonathan González), BRIC (2022, Jonathan González) and has performed for Tania Bruguera (2018) and Julie Tolentino (2023). Rudy studied Comparative Literature and Anthropology at Cornell University (B.A.). Rudy is a Philadelphia Fellow with the Flaherty Seminar (2023).
Sean Starowitz, b. 1988 / Louisville, Kentucky [he/him/his]
Masters of Fine Arts in Sculpture from the Tyler School of Art and Architecture
Starowitz's work is rooted in artistic research-based practice.  His art wrestles with fissures in the contemporary moment regarding ethical practices, the environment, and perception and directly engages media images and historical materials translated through drawing, sculpture, and moving image. Conceptual frameworks intersect with ideologies of extraction, economics, labor & leisure, and politics.  Starowitz believes that it is essential that artists participate as ethical makers, mindful of material and consequence.  He has worked in a variety of community-based contexts, spanning more than a decade of socially engaged art practice. He uses archival research and public memory as material to reframe our current understanding of natural history and political imaginaries.  Sean received his Master of Fine Arts in Sculpture from the Tyler School of Art and Architecture.
Lasha Stewart, b. 1999 / Atlanta, Georgia [she/her/hers]
Masters of Fine Arts from the Pennsylvania Academy of the Fine Arts
Stewart is a Black American artist working in Philadelphia. She graduated from Drake University with a BA where she majored in Studio Art, with a concentration in Drawing. She participated in the Summer Undergraduate Residency at the New York Academy of Art, where her art was featured in a final group exhibition. Lasha received her Masters of Fine Arts from the Pennsylvania Academy of the Fine Arts. Her work centers around themes of identity, societal struggles, and emotions. Lasha enjoys the use of found objects and materials ranging from tires to slinkies to secondhand fabrics. The use of these materials is just as important as the narratives that she instills into her pieces.
Bryn Ziegler, b. 1997 / State College, Pennsylvania [she/her/hers]
Master of Fine Arts in Book Arts and Printmaking from the University of the Arts
Ziegler is a Philadelphia-based book artist and illustrator. At the heart of her artistic practice are narrative books that draw on the visual language of comics. Ziegler aims to craft compelling, interactive objects that foster connection and community. The subject matter of her work is wide-ranging but frequently rooted in her own experiences and maintains a level of intimacy, even when they are commenting on larger power structures. Recently, her works have been inspired by the interplay between the internal development of queer identity and external influences.  Ziegler's work was recently included in the National Association of Hand Papermakers' collegiate triennial show, traveling until 2024, and the 2022 Philadelphia Center for the Book group exhibition A New Normal.